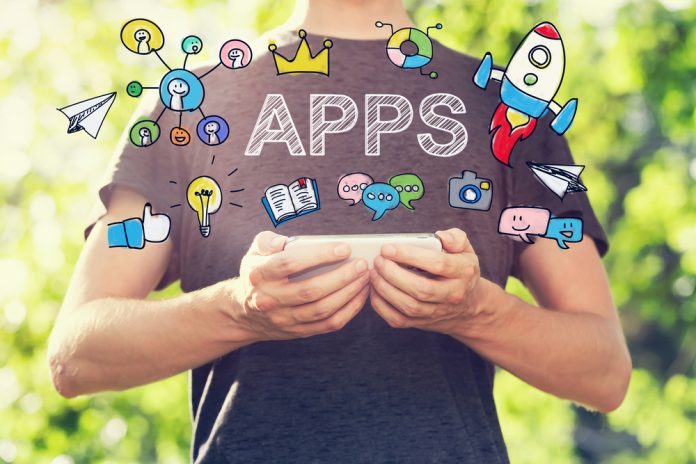 The vast majority of people today are increasingly connected to the world of digital information "on the go" via smartphones or mobile devices. Over 90% of people own a cellphone of some kind; 77% of those owning a smartphone. Today, mobile apps are the leading form of digital interaction. Consumers are spending over 85% of their time using smartphone applications. Consumers use their mobile applications for shopping, searching, interacting, and purchasing. This is a huge benefit to anyone in the marketing industry.
How could mobile applications be of benefit to the small business industry? You might think that as a small business owner, customers would like to visit your storefront to see your new product offerings. However, you are completely wrong! A smartphone is now the preferred method. A recent study found that 70% of mobile users prefer to view a brand or company through a mobile app than in person. This is why the small business industry is in need of mobile apps now, more than ever! Mobile marketing is taking over the marketing trade and it's time for the small business industry to embrace in this great marketing tactic.
Statistics in Mobile Marketing for Small Business
Many studies have been conducted to see how much of a benefit mobile applications are to the small business industry. Should small businesses utilize the mobile application marketing method? Should small businesses take advantage of the benefits of mobile applications? Based on the statistics below, we can conclude the answer to question would be; yes, absolutely! Recent studies have found:
80% of consumers don't leave their house without their mobile devices.
97% of smartphone use is at home; 83% of smartphone use is on the go; 78% of smartphone use is in stores.
Out of the 70% of consumers who did mobile searches for a business, 52% are likely to call the business.
50% are also likely to look up the business's location and get directions.
48% are likely to visit the website of the business
66% of consumers who searched on their mobile devices are likely to visit the business
36% of those consumers who searched through their mobile devices are likely to make a purchase.
Benefits of Mobile Marketing for Small Businesses
The key to benefiting the sales industry is to evolve and stay current with the fast-paced times. Mobile marketing has hit the charts as one of the essential marketing strategies today. It is the key to the future. Research has found that 4 out of 5 consumers use smartphone apps to shop. Out of the business' that don't use mobile apps currently, 78% plan to invest in mobile applications this year.
Based on the numbers and statistics, it is extremely important for business' to engage in on this sales tactic. For small businesses, they need to start getting on this or catch up with the risk they are taking of losing millions of dollars per year.
Below we will discuss some of the great benefits that a small business can expect from mobile application engagement.
1. Help Boost Sales
Most people wonder how a small business would benefit from a mobile application, as many might wish to view the product before making a purchase. However, having a mobile app actually will help to increase your sales considerably. One of the main reasons why it can help boost sales is because of notifications, and the ability to communicate with customers directly. Using the app, small businesses can send specific information about new products and services right to people within the area. They can provide them with information on special promotions and offers that are coming up. Push notifications are an option where the information pops right up on their phone. Studies found that there is a 26% increase in opening up a mobile app when push notifications are active.
Over 88% of consumers use mobile devices to search online for local businesses. 50% of consumers that find businesses online are likely to visit the business's physical location.
If there is no application for your small business, these statistics could not be possible. Mobile marketing is taking over every industry and it is time for the small business industry to embrace on this marketing strategy as well!
2. Provide customers with knowledge
With such a large group of people engaging in mobile devices today, this is a great way for a business to get in direct contact with an audience. As mentioned above, push notifications are a huge benefit to a small businesses and beats having to send out a flyer to each individual address.
3. Mobile Payments
Mobile payments are becoming increasingly popular. Rather than having to go into a store, people prefer paying right from their phone. Since 2015, mobile payment percentages through apps have gone up by 36%. This number continues to rise.
For a small business, offering mobile payments through an app could be a huge advantage. Customers can pay for products and/or services right through the app. When the process for customers is easy, they are more likely to be satisfied and return.
4. Serving Appointment Bookings
Through a mobile application, small businesses that provide services can provide a way to schedule appointments right online! This is not only less hassle for the workers but also the customers. Customers don't have to worry about calling during the working business and finding a time to book an appointment. They can do it on their own time and look through the calendar to see when an appointment is available. Research shows that 35% of customers want to schedule appointments during non-business hours and 25% of those under the age of 35 will only book appointments using their mobile.
Mobile Apps For Businesses
One of the most important steps that you could take for promoting your small business is to invest in an app for your business. According to research, apps take up 80% of the time a user spends on their phone. Many vendors can help you take advantage of this high mobile app usage and brand your company like never before.
To get started in developing a mobile application, there are some things you have to take into consideration. To start, who are you going to hire to develop your mobile application? There are a ton of application developer vendors that can help you out. Below is a list of the top 10 Mobile App Development Companies for 2017:
WillowTree, Inc.
Intellectsoft
Dom & Tom
Y Media Labs
Appster
Zco
Five
MentorMate
Intuz
Experion Technologies
Next, you have to determine what features should be incorporated into your app. Some important features that should be included in your app include:
Storefront location
Catalogue of products
Search bar
User/video reviews of products
Pricing
News for their respective industry
Buy/sell accessories
Buy products and/or services
Sell products and/or services
Product and/or service features
Technical specifications
Social media sharing
It is important that your app provides two things:
Functionality: It is important to ensure that the functionality of the app is useful to its users. The app should provide the basic functions and features (listed above). The app should allow users to search and sort through the products.
Special Features: It is equally as important to include special features in addition to the basic features. You want the app to stand out amongst other automotive dealership apps. For example, a special feature could include booking an appointment right on the app, or having the option to chat right online.
As you can see based on this article, engaging in a mobile app in the small business industry is of extreme benefit. Mobile technology is the key to the future. It is better to start sooner than later and stay on top of this marketing tactic!
Read more articles on Small Business Technology