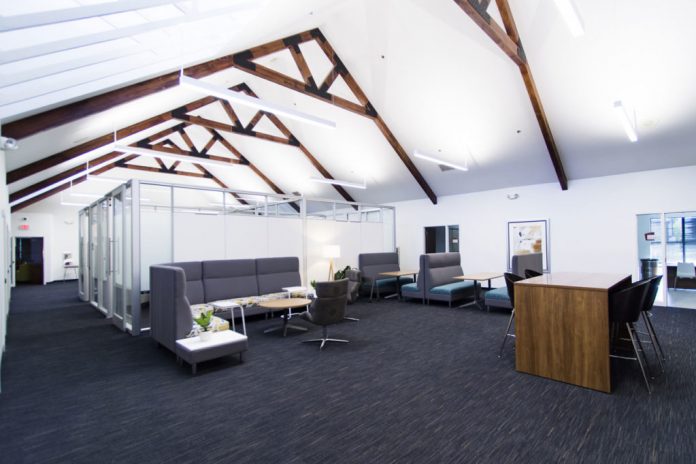 Start-up solo entrepreneurs have a lot to think about as they begin the journey of establishing a business. One primary factor is location. While it may be possible to spend the early days working at home, there may come a time when entrepreneurs need resources that a home office cannot provide. In the past decade, numerous co-working spaces have popped up across Metro Atlanta. While many are located in densely populated urban areas, some locations have been established in the suburbs as well. Below are five of the most popular in the Metro Atlanta area.
Roam Innovative Workspace

Dunwoody and Alpharetta
Roam offers a wide variety of amenities and resources to entrepreneurs on the move. With a full-service café, business class Wi-Fi, and elegant meeting rooms with A/V and Apple TV displays. Roam also partners with local food vendors to provide catering for business meetings. The co-working organization emphasizes cultivating an environment of networking and collaboration. Members have access to a virtual network space to connect with others if they are not able to make it to the physical location. In addition to Dunwoody and Alpharetta, Roam is also located at Perimeter Center and Buckhead. Costs for a monthly membership range from $139 to $499 depending on the amount of meeting room hours, guest passes, and after-hours access desired.
Strongbox West Co-Working Spaces
West Midtown
It is hard to talk about co-working spaces in Atlanta without mentioning Strongbox West. They lay claim to being one of the oldest modern co-working spaces in the city, and Uber and Lyft launched their Atlanta teams out of the organization's original location. They are likely one of the largest in the city, and visitors can expect free parking, mail and packaging services, an onsite coffee shop, high-speed internet, and access to conference and event rooms (depending on the membership level they have purchased). Strongbox offers day passes at $15 for those who just want to drop in every once in a while. From there, memberships range from $95 to $450 depending on how much access and dedicated space an entrepreneur is looking to have.
NEX Atlanta
East Atlanta
It may seem that midtown inhabitants get to have all the co-working fun, but NEX Atlanta is expanding the innovative collaboration environment to residents located near the East Atlanta and Kirkwood areas. This location provides share co-working space but does not offer private offices. Out of all of the co-working locations in the area, NEX Atlanta may have the most diverse range of membership options. They offer day passes for members at $10 and $20 for nonmembers, and members can have free guests for up to two to three hours. The location also offers file cabinet rental and mail service, a notary, weekend and evening access, and 24/7/365 access. NEX Atlanta specializes in providing office hours where entrepreneurs can receive training from experts. Members can also look forward to bootcamps, small group meetings, and classes meant to offer entrepreneurial advice. Memberships range from $10 to $200.
IgniteHQ
Marietta
IgniteHQ has a formal partnership with Kennesaw State University, the Cobb Chamber, and Cobb Competitive Edge. Memberships include one GB of internet usage, networking and educational events, landline phones for conference calls, conference rooms, and printing and copy services. What makes this location a bit more unique than the others on this list is its partnership with a local university.  As a result, students and non-students can benefit from an environment that promotes entrepreneurial education and innovation.  So, memberships also include mentors and advisors to help develop ideas. This university-friendly environment offers free workshops addressing topics ranging from Introductions to JavaScript to mini-MBAs. Membership costs range from $149 to $2,000.
Cornerstone Coworking
Lawrenceville
Can't make it to downtown or midtown? Cornerstone Coworking is doing for Lawrenceville and Gwinnett County what NEX Atlanta is for the eastside. In addition to Lawrenceville, this co-working space serves Snellville, Grayson, Loganville, Duluth, Norcross, Sugar Hill, Duluth and many other cities located in the Gwinnett County area. Cornerstone offers six conference rooms, a training space, and a common area to those who just want to work independently. For those who are on the fence about entering into a monthly contract, Cornerstone offers a free day-pass to let those interested try it out. Unlike some of the other co-working spaces, members can reserve conference rooms on the website. Memberships range from $139 to $700 a month depending on how many hours some members would like to have access to conference rooms. They also host free monthly educational events, and they include the LinkedIn information of all their members to promote networking.
Whether you live in Alpharetta, Norcross, Marietta, or right in the middle of Midtown; there are numerous co-working options available for those who want to get away from the coffee shop or home office scene. Many even offer free opportunities for training and professional development. One thing is for sure; Metro Atlanta is transforming into a hub of co-working spaces for those who want to develop the next big idea.
Read more articles on Small Business Resources