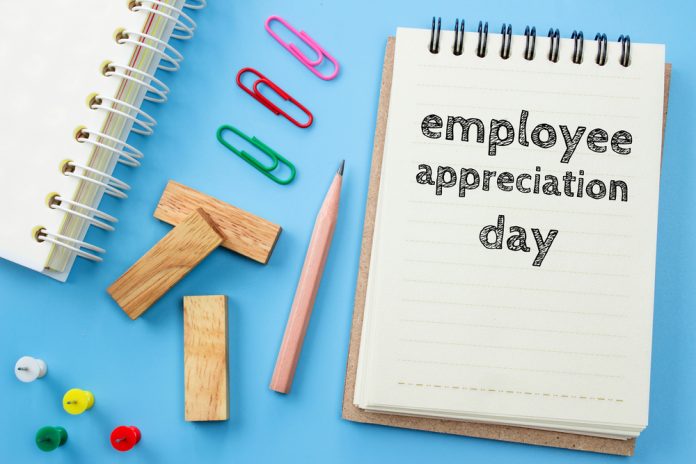 When is the last time you remember saying "thank you," to someone at work? Do you remember the last time someone said those words to you? The hustle and bustle of the workday and the stress of looming deadlines make it incredibly understandable that you cannot answer those questions. It is so easy to become swept up with projects, meetings, and intense work days.
However, we as humans, have an inherent need to be acknowledged for the talents we bring. In addition to this fact, the modern workplace has a bit of an engagement problem. Across the globe, nearly 67 percent of workers are disengaged at work according to a recent Gallup poll. What are the drivers that can lift this disengagement? According to Aon Hewitt's 2012 Trends in Global Employee Engagement, career opportunities, organization reputation, and recognition play a considerable role in how engaged employees are.
March 2nd is Employee Appreciation Day, and since recognition is proven to play such a crucial role in engagement and productivity, below are examples of how some companies have chosen to increase participation through recognition programs.
Every Day is Employee Appreciation Day –
The Motley Fool is a financial solutions website that provides investment tips for visitors. Leaders at this company have taken an active approach to recognizing employees. They host events throughout the year that shows their gratitude to employees. They have even developed a peer-recognition system where employees can nominate each other to receive awards for a job well done.
Celebrate together with remote teams –
In today's society, many companies have remote workers located across the globe. An idea that remote or semi-remote based businesses like Piktochart, an infographic app company, has established annual retreats. The company invites all employees to a destination, and while there they hold a recognition ceremony where employees are acknowledged for their hard work. Workers can give each other points, and leadership keeps track throughout the year to award employees at the retreat award event.
A personal letter never hurts –
it is easy to forget how far a hand-written letter can go in making someone feel valued. Typing is so much more convenient, so it shows that someone took time out of their schedule to take on the task of writing a letter. At Snacknation, a company that delivers healthy snacks to workplaces, CEOs write letters to employees on work anniversaries and birthdays acknowledging all the contributions they have made to the company. It lets workers know that senior management cares about what they do, and will take the time to thank them for it.
Get ideas from employees –
Something that many companies may not have thought about is enlisting the help of employees to create appreciation incentives. It not only helps leaders develop personal ways to show gratitude to workers, but it also shows them leadership cares enough to ask. Button, a mobile commerce partnership platform, asks employees about a time they felt appreciated at work. This information has given the company insights into how people would like to be acknowledged publically and privately.
It is essential for business leaders to break through the busyness of the workday to find a way to tell workers they appreciate their work. Not only is it the right thing to do, but it also has resounding effects on the company in the way of increased engagement and productivity. According to a Gallup poll, 65 percent of employees surveyed felt they were not acknowledged for their work in the previous year. Failing to recognize employees can increase disengagement and potentially cause high turnover. Following the lead of companies like those above can help businesses celebrate employee appreciation past March 2nd.
Read more articles on Small Business Management
Sources:
17 Unique Examples of Employee Recognition in Action, bonus.ly/employee-recognition-guide/employee-recognition-examples
25 Great Statistics on Employee Recognition, www.globoforce.com/gfblog/2014/25-great-statistics-on-employee-recognition/
Employee Engagement, news.gallup.com/topic/employee_engagement.aspx
These Four Companies Totally Get Employee Recognition, www.tinypulse.com/blog/these-4-companies-totally-get-employee-recognition