Small Business Saturday (SBS) is celebrated between Cyber Monday and Black Friday. It's great to support a local small business this Saturday by shopping there. Shopping at a business during Thanksgiving can be a great deal for them.
So, if you live in Atlanta or plan to visit during Small Business Saturday, you should consider visiting the businesses we will list in this article. We will be focusing on small businesses.
Before we head on to our list, we must understand which ventures qualify as small businesses in Atlanta.
A small business is a corporate venture or a partnership that may have fewer employees or small revenue than most companies. These are smaller than a regular business and may have 100-1500 employees on average.
Historical background of Small Business Saturday
Small Business Saturday is the national festival for shopping that arrives the Saturday after Thanksgiving.
Small Business Saturday was started around 2010 by American Express. The primary purpose of this event is to motivate and convince buyers to shop at small businesses.
SBS is considered the kick-off of the holiday season leading to Christmas. It is usually when many businesses start various discounts and sales for their customers during Small Business Saturday. The offerings are good enough to attract customers for more shopping, ultimately leading to more revenue for the company.
Small Business Saturday in 2022
Like every year, Small Business Saturday will be celebrated in the U.S. in 2022, and it will be on November 26. Customers have recently boosted their purchases from these small businesses, which has greatly helped them in the post-COVID-19 phase.
Your choice of small businesses during the SBS week will determine the kinds of industries you will support.
If you are unaware of the Atlanta business spectrum, this comprehensive list of small businesses you could support this SBS could greatly help you.
Anyone that visits Atlanta should have the experience of having an authentic breakfast in the area. If you are an early bird or want to explore the area during your Small Business Saturday visit, we recommend you visit Midtown Atlanta. There's much to do there, but nothing beats Atlanta Breakfast Club.
The place is more than just a diner and offers some of the best foods for visitors in the region. It is a modern diner serving some of the most impressive American traditional foods. The restaurant adds a more southern touch to its cuisine, which is its reason for success through the years.
Even today, the Atlanta Breakfast Club is one of the top-rated locations for visitors wishing for a fresh experience.
If you feel comfort food is your calling, then there's no better place to visit than the Atlanta Breakfast Club. You'll have a blast with fantastic food items and dishes you've always wanted to taste.
Just remember one thing, Atlanta Breakfast Club is particularly popular within the locality, which makes it the perfect breakfast place, but only if you reach early. Star your Atalanta visit early off at the Atlanta Breakfast Club, and it should give you the experience you've always wanted.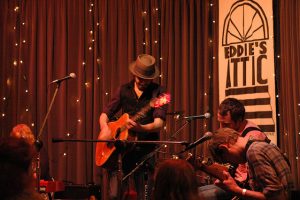 Nothing makes your night better during the Small Business Saturday than music, and if you are looking for such an activity, we recommend you visit Eddie's Attic.
You can listen to some of Atlanta's best live musicians and singers. Eddie's Attic also has a reputation for producing some great musicians in the past.
If interested, you should visit 515 N McDonough St, Decatur, GA 30030, all week.
They have some of the best musicians performing all week long. Previously, their kitchen was not serving food due to the pandemic, but now since the situation is under control, you can enjoy food too.
Previously, visitors had to take their food with them, but that's no longer the case. You can also enjoy a great bar that serves drinks during the show.
Anyone looking for an intimate experience with their music night in Atlanta can visit and hear singers and songwriters, such as Ellis Paul. The place has always held an excellent reputation in the locality, and many great artists have been here. These include:
The Civil Wars
Sugarland
Shawn Mullins
Justin Bieber
John Mayer
Not everyone wants adventure on their visit to Atlanta; if you are more laid-back and need to stay calm during your visit to Atlanta, we recommend adding Just Add Honey. It's one of the most renowned tea companies launched in 2006.
The company aims to improve team enthusiasts' lives with some of the finest tea blends designed to improve their experience. Some of the most popular tea options you can choose from include:
Penny-Pinched Tea Bags
Instant Tea
Feel Better Teas
Artificially Flavored
5 O'clock Teas
With the blends from Just Add Honey, you'll meet your daily tea cravings and have a fun and refreshing experience. Remember that add Honey operates between Tuesday and Sunday and is closed on Monday, according to their latest updates.
You can purchase tea options from their website and do your part for them this Small Business Saturday.
Sweet Auburn BBQ is your go-to restaurant if you love the southern lifestyle and Asian cuisine. The place is owned by two siblings and offers some of the finest food items and dishes in Atlanta, Georgian.
There are various menu options you can choose from, but the restaurant is most famous for its traditional-style BBQ blended with its Asian twist.
You'll find tasty foods like Coconut lemongrass ribs and even Pimento cheese wontons, some of the restaurant's best-selling items. Please don't take our word for it. Go ahead and try them this S.B. Visiting Sweet Auburn BBQ will give you the experience of two cultures worldwide on a single plate.
The best part is they have a traditional chef who will give you the most authentic experience possible. You can have some refreshing cocktails at the bar if you're not up for food. The restaurant starts operating according to the following schedule:
Sunday – Thursday 11:30 am – 9 pm.
Friday & Saturday 11:30 am – 10 pm.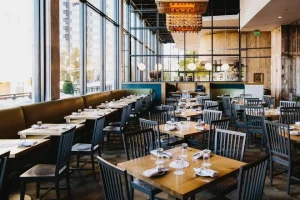 Do you wish to make an exclusive event even more special during the Small Business Saturday week? Then we recommend you visit the White Oak Kitchen & Cocktails, Atlanta, downtown area.
As you can already tell by the name, a décor touched white oak and repurposed wood. With these elements in the interior, any meal at the restaurant becomes your go-to option.
A signature chandelier gives this place a classic look while illuminating the main dining hall. The variety of food in this local business kitchen perfectly reflects a typical southern lifestyle. From traditional food to contemporary recipes, you will find something to suit everyone's taste buds.
Just because it's fancy doesn't mean it's going to be difficult. They have a simple menu that comes with details about each food time. The best part is everything will taste like it's supposed to, making it the best option for you.
What's more popular about the White Oak Kitchen is that they have a 360-degree bar that's been their reason for popularity for many years.
The interior is a balanced mix of white oak and marble, his signature style. If you love drinking, then the White Oak Kitchen is your go-to option. The restaurant offers more than 70 different whiskeys and bourbons, offered to make your visits best.
Apart from these beverages, you'll get finer options like:
WOKC's Barrel Bar has gained much popularity over the years and was awarded the best whiskey bar award in 2021. If you are looking for more information, you can learn about their barrel bar here.
Today, they have some of the best beverages, including:
You'll also find drinks on the rocks, which are particularly popular with the residents of Atlanta. Anyone that has visited the White Oak Kitchen comes highly satisfied and recommends them to their peers. We recommend experiencing it on your own this Small Business Saturday week.
Final words
As Small Business Saturday approaches, it's time to plan out your Atlanta visit in advance. We have listed some of the most top-rated businesses in the region with their specialties and recent details. We have taken all sorts of recommendations for Atlanta visitors that they might enjoy.
There are breakfast places, options for tea enthusiasts, and even fine dining options to make your special events in Atlanta special.
With this guide, you'll spend your money wiser in Atlanta, Georgia, and support well-deserving businesses. We recommend your experience these places firsthand and have the best experience during your visit.
Does your part to assist these businesses to thrive because they will give back to the community! Happy SBS to you and your family!
---
The Atlanta Small Business Network, from start-up to success, we are your go-to resource for small business news, expert advice, information, and event coverage.
While you're here, don't forget to subscribe to our email newsletter for all the latest business news know-how from Atlanta Small Business Network.