Welcome to another episode of Launched & Legal with Dayna Thomas, Esq., entrepreneurship attorney and law firm coach. Launched & Legal is an Atlanta Small Business Network original series dedicated to bringing entrepreneurs and business owners the best practices and tips for strategizing, legalizing, and monetizing their ventures. Today, Dayna discusses intellectual property and shares information about legally protecting a technique.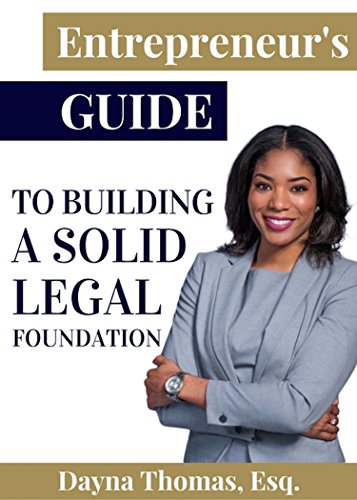 Transcription: 
Dayna Thomas, Esq.:
Today, we're going to talk about, can I legally protect my technique? And what inspired me to talk about this today is because I get a lot of DMs from many different types of business owners asking about protecting a technique. There's so much information out there about protecting a brand name, protecting works of art, protecting an invention, but not so much information about protecting a technique. Now, whether your technique is something, a method that you do, or a way that you do business, or even a way that you sell your quilts, all of that can be considered a technique. Now that makes it a little bit complicated as it relates to specific advice about whether your technique can actually be protected by something. So I definitely advise that you reach out to an attorney for your specific advice for your situation, but I'm going to help guide you today.
Dayna Thomas, Esq.:
Now to get us started, let's do a little review on IP, intellectual property, which are different ways, or at least options that we're going to talk about, whether it's possible for you to protect your technique in these ways or not.
Dayna Thomas, Esq.:
Let's start with copyright. Copyright is a form of intellectual property that protects original works of authorship that are fixed in a tangible medium. Now I know that's sounds funky, but what that means essentially is creative works of art that you can actually touch. It has to be tangible. So if I sing a song, that song isn't protected if it's not recorded or written down, but when I do record it or write it down, we can protect it by copyright because it is a creative work of art or authorship that is fixed in a tangible medium, whether I'm writing it down or it's recorded.
Dayna Thomas, Esq.:
Now, does a technique fall into that realm? Is that in a fixed tangible medium, or a creative work of art? Unfortunately it is not. So a technique is not protectable by copyright.
Dayna Thomas, Esq.:
Moving on to the next one. Another form of intellectual property protection is trademarks. Now, trademarks protect brands and show the source of a brand. It gives exclusive rights to a person or a company or the owner of the trademark to use that mark, whether it is a brand name, a logo, a symbol, a catchphrase, a tagline, to use that phrase in connection with a certain product or service, or products or services that are confusingly similar to it.
Dayna Thomas, Esq.:
Now, as I'm explaining this, does that sound like you can protect your technique with a trademark? No. We cannot protect a technique with a trademark because trademarks are for brands or representations of your brand or sources of goods or services.
Dayna Thomas, Esq.:
All right, now let's try the next one. Patents. I know you may have heard of patents before. Patents give exclusive rights to the patent owner for a specific invention, whether that is to make the invention, to reproduce the invention, or to sell the invention. Now, as we're thinking of patents, it is true that some patents can be used for business methods, but the patent law for that is so complex and most times it will not fall under patents as it relates to a technique. So there are rare situations where your business method or your business process can be protected by a patent, but you really should reach out to a patent lawyer to see that if it actually falls under that realm. Most likely it will not. So I don't want to get your hopes up as it relates to a technique, but it's worth giving it a try and getting the answer.
Dayna Thomas, Esq.:
All right, last but not least, the fourth form of intellectual property protection that we're going to observe about your technique is trade secrets. Now, what's a trade secret? Actually, a trade secret is nothing that you can file. There is nothing that you need to file to have a trade secret. A trade secret is exactly what it says; a secret for the way that you do business. And the best way to create a trade secret is to keep something a secret. And how do we do that? We make sure that we have nondisclosure agreements and confidentiality agreements. We make sure that we have a lot of data and physical property privacy. You have to protocols as it relates to this trade secret. Essentially, it's a whole system that has to be obviously put together to protect this technique.
Dayna Thomas, Esq.:
So yes, a trade secret can protect a technique. The only thing is that you can't really share it with the public. And a lot of times, especially the folks that have reached out to me, they do want to share this technique with the public. They want to teach others how to do it so that it makes their lives easier, more efficient, and they can do things better, but there comes some risk with that. When you're teaching others techniques, it doesn't really fall in the realm of a trade secret because you're exposing it to others.
Dayna Thomas, Esq.:
That's a rundown of some options or things at least that we explored as it relates to techniques. From what we discussed, not copyright, not trademark, likely not patents, and perhaps trade secrets can protect your technique. All right? So reach out to an attorney to give your specific facts and talk about exactly what your technique is and how the best way is to protect it from the options that we discussed.
Dayna Thomas, Esq.:
The last thing that I want to mention is that, although it's unlikely that we can protect our technique by anything that we file outside of keeping it a secret with a trade secret, one thing that you should do is protect the brand that offers the technique. Now think about it. Even if others use your technique, they're using it in their business, the same exact technique that you do. What makes a consumer, a client, a customer choose your business over another, even though you may use the same technique, you may offer the same products, you may offer the same services? The answer to that is brand distinction. Your brand.
Dayna Thomas, Esq.:
What do people think and feel when they hear your brand? What is the reputation that your business has? Even though you may offer the same technique as someone else, whether you came up with it at the same time, or maybe they stole it from you. Whatever the case may be, one way to make sure that you are not cut out from that is to build and protect the best brand that you possibly can, because even if someone offers that technique, no one can do it like you. And the way that we do that is we protect our brand and build the best brand that we possibly can. So remember to trademark your brands, because as you're building your brand, to make sure that your technique is as protected as it possibly can be and that people are choosing your company over others that may use your technique. You want to make sure that brand is protected. And the way to do that is through trademarks.
Dayna Thomas, Esq.:
While I'm excited that you tuned in today, I hope today's show help to educate and inspire you as you pursue your business goals. Be sure to share today's show with someone who can benefit and visit myasbn.com and subscribe. If you have any questions or comments about today's show, I would love to hear from you. Send me a message or a comment on Instagram @daynathomaslaw. And remember to tune in next week and every week to make sure your business is launched and legal.
---
The Atlanta Small Business Network, from start-up to success, we are your go-to resource for small business news, expert advice, information, and event coverage.
While you're here, don't forget to subscribe to our email newsletter for all the latest business news know-how from Atlanta Small Business Network.