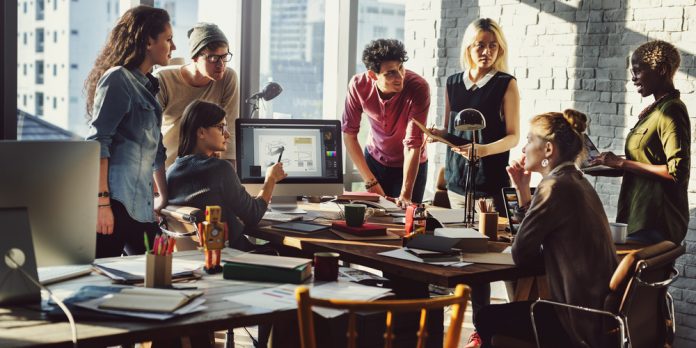 Owning a small business is a significant milestone in your professional life. It is a great feeling to be able to start each day and be as productive as possible in growing and maintaining your start-up. One step to building it is to develop effective leadership practices. Here are some tips to cultivate a leadership style that can help maximize your growth.

Focus on What You Excel At
In this internet age, it is easy to model yourself after a public figure or try to emulate certain archetypes. You are at your best when you invest in your primary abilities. Instead of jumping on business fads or trends, place a more intense spotlight on the items at which you already excel. Getting distracted by fads or notes that someone tells you can lead you off the trail of building your business your way.
Work with Positive and Motivated Individuals
Negative personalities have a contagious effect on people around them. If these personalities are existent in essential positions in your business, then they could be a long-term detriment to success. Consider filtering your hiring process to look at not only skilled and experienced individuals but those who know how to turn negatives into positives. That is a long-term move towards building a successful strategy for your business. If your team has ambitious individuals with a determined attitude, then innovation and ethics can be a more significant part of your company DNA.
Do the Smart Work Instead of the Hard Work
It is easy to think that putting in more hours means more money. However, pushing yourself for meager returns may not be worth it. Also, there are only 24 hours in a day, so using your time efficiently takes precedence over the volume of work you do. If you can filter out the most critical priorities in your day, then you can create more exceptional results with less stress on your mind and body.
Develop a Long-Term View
When forming a long-term view, you are maintaining a proper perspective of what direction your business is heading relative to the industry. Look at the trends that affect your industry, and then determine what actions you can take to accommodate them. You can make a note of these trends and plant the seeds for future change. Is there a new potential audience to whom your product can appeal? Is there an innovation that presents additional opportunities? By taking note of these trends and forecasting their long-term effects, you can be more prepared to manage them when they take effect.
Support Other Skilled Team Members
One of the most exceptional capabilities a small business leader can have is developing and promoting the growth of gifted team members. It is important to not take these talents for granted, as they can be cornerstones of a successful business. Take care of your workforce, and they will take care of you. You can start by rewarding performance and provide additional challenges or opportunities to enable employees to grow. By recognizing their development and its importance, you will earn the loyalty of your team.
The transition to small business ownership requires navigating through some challenges and obstacles. You may come out of the process with a few bumps and bruises, but by understanding the essentials of effective leadership, your business will see immaculate returns. Consider these practices as you assume your first leadership role in a small business.
Read more articles on entrepreneurship